I started spinning a few years ago, at first on a supported spindle and I now have two Turkish spindles and a drop spindle as well. I love them for their fine spinning and their portability, but I also wanted to buy a wheel. When I started working again this summer, I started putting away the money I earned every month, in order to buy my wheel.
Jeremy, my Mum and Dad and Margaret and Peter all gave me Christmas money this year and so I was able to go up to the Fold in Marengo, Illinois to buy my wheel. I can recommend them to anyone looking to buy a wheel, fibre or a loom as they were very friendly and helpful and let me try it out before I bought it.
I had originally intended looking at three wheels – the Schacht Ladybug and Flat Iron and the Lendrum DT. They got out the Lendrum first and I didn't even try the other two, it just felt right straight away. They gave me a big bag of fibre to try the new wheel out, I chose some white BFL, brown BFL and some light sand coloured Shetland, I haven't tried spinning Shetland yet, though I have knitted with it.
After that we went for lunch. As the Illinois Railway Museum we often go to was closed for the season, we took a trip over to nearby Woodstock. Woodstock is where they filmed many of the scenes in the Bill Murray film Groundhog Day. Woodstock's square stood in for Punxsutawney and Gobbler's Knob:
https://en.wikipedia.org/wiki/Groundhog_Day_(film)
We went to Ethereal Confections for lunch which is wonderful if you love chocolate, everything is made in their kitchens and they have gluten free options as well: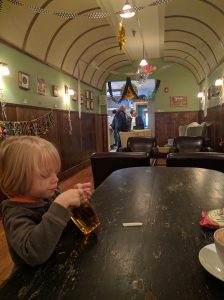 https://www.etherealconfections.com/
Then after that we took Ewan to the Volo Auto Museum. I think he liked the Ghostbusters Ambulance best, followed by the Batmobile: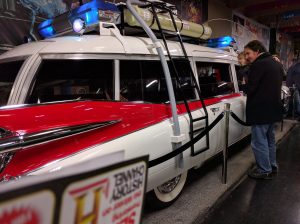 We didn't get the wheel assembled until the next day, when we had got home from Woodstock and the car museum, I had just wanted to nap.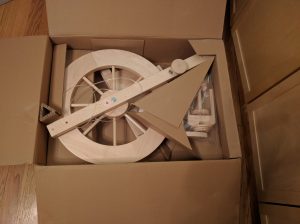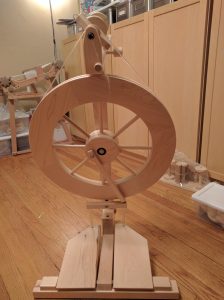 This was my first try, using the white BFL. Thick, thin and decidedly wonky, but the second try was better and by the third I was able to replicate the singles I had been making on my spindles.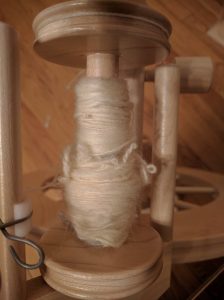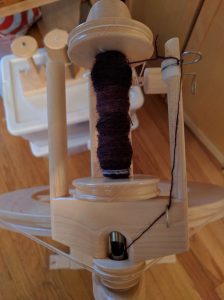 Ewan and I had dyed some fibre on the last Friday of his school holidays, he dyed some Corriedale with food dyes and I dyed some Merino with my Dharma and Jacquard acid dyes, some of them will become a shawl for the Windy City Knitting Guild shawl knit along: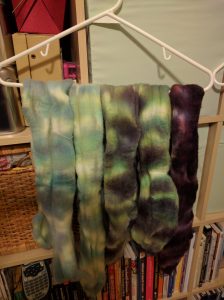 I n-plied my first batch of singles last night on my drop spindle. I was a little bit unsure of plying on the wheel yet as I haven't had much of a practice run, but it came out well, I now have to spin some more over the next week, or so. I'm hoping I will be able to post an update over the weekend, if I can get some more spun up.